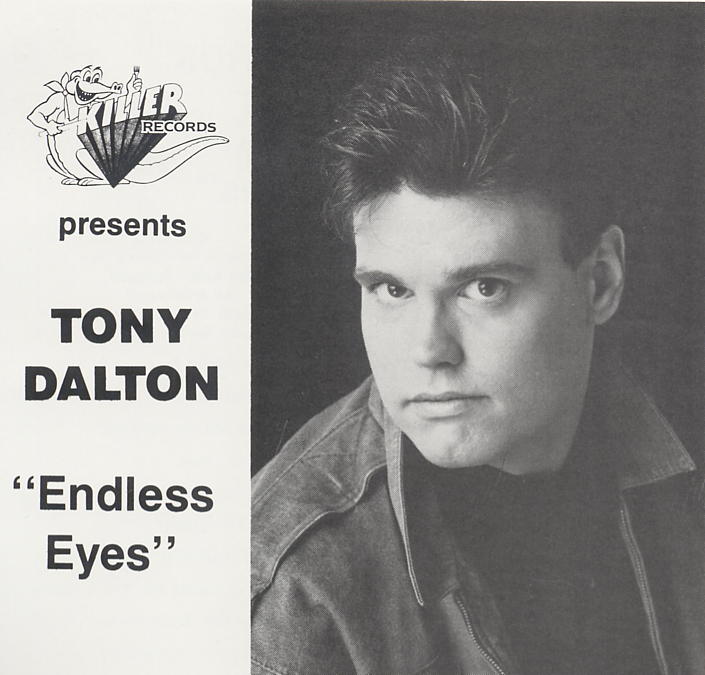 CD - "ENDLESS EYES"
Return to Tony's Home Page
---

Only So Many Tears
CREDITS:
All songs Published by Little Music BMI except Cut 2 Published by Tree Music BMI.
Background Vocals by The Tommy Dee Singers.

KCD121. Produced by Tommy Dee for Killer Records. All Music and Vocal Arrangements by Tommy Dee.
Killer Records, Tapes and CDs, 801 N. 16th Street, Nashville, TN 37206, (615) 227-3602
All Rights Reserved. Manufactured and Distributed by:
TNT Distributing, 801 North 16th Street, Nashville, TN 37206, (615) 227-3602

---
CUTS:
1. Endless Eyes (Roman Rand)
2. He's Got You (Hank Cochran)
3. You Were Made For Me (Tommy Dee, Tommy Chase)
4. High Voltage Man (Tommy Dee)
5. One Mean Dog (Tommy Dee, Tommy Chase)
6. Only So Many Tears (Tommy Dee)
7. I Believe I'll Pour Myself Another Drink (Tommy Dee)
8. Look Whose Heart Just Got Broken (Tommy Dee, Tommy Chase)
9. Ever Since You Left Me (Tommy Dee, Tommy Chase)
10. One Teardrop Too Late (Tommy Dee, Tommy Chase)
---
COST - $12.50
ORDER THROUGH THE FAN CLUB!!

Web Pages Created By BubbaHyde.com